And Happy Earth Day too! Mary must have told Cam in the morning because when I got up, he said, "Happy Earth Day, Mommy!". He also said it at random times today. Umm, you're not getting any gifts for it. Ha!
Anywho, Mr. O.G. turned 9 months yesterday. I can't believe my little baby is going to be ONE in 3 months. When did this happen?!? Sure, he thinks he's ALREADY a big boy but he's not (shhhh, don't tell him). He loves attempting to climb the cat tower, trying to jump out of his jumperoo, walking around the couch, laughing at the doggies, and playing with anything that's NOT a baby toy. He also doesn't go for any fake things...he wants REAL keys and REAL remotes, not toy ones.
He can now open the toy cabinet that has mostly Cam's toys in it. Cam isn't too thrilled about this but I told him that O.G. is getting bigger and learning more things. Cam let me know that O.G.'s hands are getting bigger too.
We also take a drumming class once/week. This class was supposed to be for Cam but O.G. participates WAY more. He's now at the point where you can do a few beats and he'll repeat them. He LOVES drumming on anything and everything. Sometimes we ghetto drum...
And with his 9th month, I'll take any excuse to make cupcakes...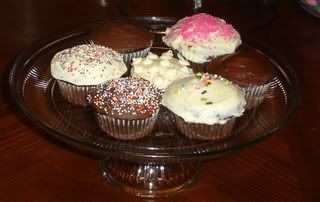 So, what does one do once they're 9 months? Well, they go get their passport. But seriously, we're going to Barcelona next month. Mary's going to have some meetings and she's trying to convince me to live there from 2010-2011. She's applying for a Fulbright and wants to do her sabbatical there.
Anywho, with O.G. getting a passport, I figured it was time for me to change my surname on mine to my married name. Aside from having my maiden last name on my passport (which I now have zero identification with), the picture was 8 years old and well, A LOT has changed.
I had heard rumors that it was difficult for people in a same-sex marriage to get a passport with their married name. But social security changed my name so why not passport? Apparently, the passport agency takes DOMA very seriously and won't give you a passport with your married name. At first the window clerk was going to go ahead and do it so she voided my current passport. Then some b'arch supervisor came over and started giving me the DOMA b.s. and I began ranting about being a second class citizen and that I didn't understand why social security will change the name and passport won't. I was pissed and upset. Apparently, a higher up manager over heard and came to my rescue. ***note, he was probably gay but whatever who's going to protect you if not your own*** First he told me that they could make a note of an alias on my passport. My alias being my actual name. In the end, he decided just to give me the name change and sign off on it himself. He also gave me it free of charge due to the inconvenience. Score one for the gays!
And how cute is O.G.'s passport?
On a side note, Cam will not be going on this trip. We decided that with the traveling and TIME CHANGE, it wouldn't be so great for him. Instead, he'll be spending the week in Ohio where he can play with my nephew, swim in Nana Patty's pool, and probably eat lots of junk food. Coincidentally, my dad had planned on being in Ohio during the time of our Barcelona trip so Cam will be traveling with him.
Who knows if they would've issued him a passport in his current name? After all, we did go through the roundabout with his social security card which was the easy thing for me to change. This included a copy of his old birth certificate, a copy of his new birth certificate (when you adopt, you basically get a birth certificate that says you birthed the child), a copy of the adoption certificate, and after waiting for 2 hours in the social security office to submit this paperwork, they also wanted his medical record. What is wrong with this country? I'm not sure what makes it The UNITED States of America when the federal government doesn't want to recognize state laws. But without a problem, they'll take our money.